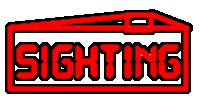 [Sighting]
A downloadable Awsome Game for Windows
"DEFEND THE POWER GENERATOR FROM THE SIGHTINGS; WHILE UNARMED!"
Sighting is a Horror, Top Down, GUN-LESS shooter &Exploration Game. Were the player defends a power generator from the supernatural creatures known as THE SIGHTINGS; In order to upgrade & survive.Whilst UNARMED! *Explosions* Collect the the Watz and Armor Upgrades to change your soundings. And because the new supernatural SIGHTINGS, Who knows what might happen?
*movie poster not included?
*Note: I submitted late since my scene file got corrupted, hence there are some of bugs *
Install instructions
1.Download
2. Extract from zip
3.Play
4. Give me all of your cookies feed back
5. And follow me on twitter https://twitter.com/emanvidmaker for more games like this
Download
Download
Sighting by emanvidmaker (Zip)
16 MB